Poolside
Advice, how-to's, tips & tricks, and everything pool related.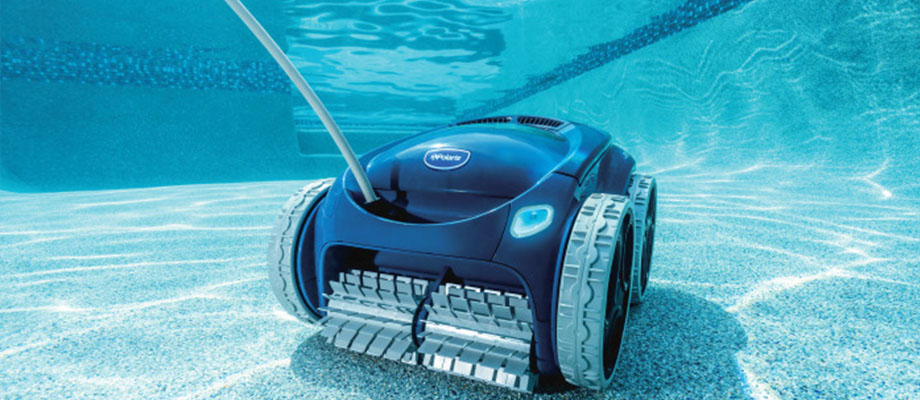 Which is the Best Polaris Pool Cleaner?
Break down the best performing Dolphin robotic pool cleaners
Tweet
---
Polaris is a popular name in the pool cleaner industry. If you've been a pool owner for more than a few years, chances are you know the name, or you've had one of their models scuttling around your pool.
This brand is especially known for their pressure side cleaners, the automated pool cleaners that use pressurized water from the pool pump to navigate underwater and suck up debris. They've recently introduced robotic pool cleaner models, most notably, their 9000 series of cleaners.
To determine which of their models stands above the rest, we've put two of their most popular machines to the test: The Vac-Sweep 360 pressure side cleaner, and the 9550 Sport robotic pool cleaner.
Vac-Sweep 360
About This Model
The three-wheeled cleaner with the tall, sail-like debris bag is the silhouette many pool owners associate with Polaris. Like all pressure side cleaners, the 360 connects to a dedicated pressure line that is powered by a pool pump. Dependent on the pool pump in place, the 360 may not require a separate booster pump.
The 360 is designed to vacuum, sweep, and scrub the floor and walls of any in-ground or above-ground pool. The large filter bag captures debris instead of relying on the pool filter. Polaris designers added an in-line back-up valve that can free the 360 if it gets cornered.
What We Like About the 360
Cost-Effective
At about $450, buying the Vac-Sweep 360 won't cost you an arm and a leg. Its low price is one of the many reasons novice pool owners are drawn to this model, and pressure side cleaners in general.
Doesn't Require a Booster Pump
This is dependent on whatever kind of pool pump you have in place, but most pools don't require a booster pump to operate the 360. However, this does add strain to a pool pump and will inevitably shorten its life.
What We Don't Like About the 360
Power Hungry
Pressure side cleaners are notorious for how much electricity they use. To put it into perspective, a traditional pressure side cleaner uses up to 2,000 watts of power during a regular cleaning job, while a premium robotic pool cleaner uses only 180. So, while that low price tag looks good initially, you'll pay for it in the long run with higher electric bills.
Hard to Setup
Even though the Polaris 360 doesn't need a booster pump, it doesn't equate to it being easy to setup. The Polaris 360 requires a lot of fine tuning and adjustment just to get running. You'll need to make sure your existing pool pump has a high enough flow rate and that the pump isn't being diverted in several directions. Otherwise, you'll have a hard time setting up the Polaris and won't be able to have a powerful and effective clean.
Strains the Pool Pump
The 360's source of power comes directly from the pool pump while running at high speed. This strains the pool pump, especially since the 360 is "unintelligent" and wanders aimlessly in the water. That means it's spending more time wasting more of your pool pump's energy and lifespan to do a less effective cleaning job.
Filter Bag Is Flimsy and Weak
While the 360 doesn't require the pool's filter to filter out dirt and debris, its built-in bag is a sorry alternate. Resembling a worn-out cloth diaper, the filter bag on the 360 rips easily, sometimes littering debris back into the water after the cleaner has already sucked it up. On top of that, it's a pain to clean, and any rough handling of it will likely lead to more tearing.
Easily Trapped
Polaris added an in-line back-up valve to help free the 360 when it gets stuck, but we can't say it works well. The 360 is tall and easily tips over onto its side, which is where it usually stays until a pool owner intervenes. Plus, it gets hung up on protruding drain covers, leaving it stuck yet again until someone can free it.
Feels Cheap
This is where the lower price tag plays a part. The Polaris 360 is not like its predecessors from the brand's glory days. The components of this machine are made of cheap plastic that many users find to be a headache. The chlorine and sun will inevitably fade the color, and regular maintenance of the machine is often tricky because small parts break off easily.
About This Model
The Polaris 9550 Sport is a robotic pool cleaner, thanks to its on-board motors and sensors. It is one of the most popular models of the small Polaris family of robotic pool cleaners, costing about $1,200.
The four-wheel drive capability on the 9550 is what powers the robot up steps and walls. The front scrubbing brush is active, especially meant to scrub the tile line. In terms of filtration, the 9550 has an inner filter canister that easily lifts in and out of the cavity of the robot. One of the highly touted features of the 9550 is its 7-day programmable timer and remote control. The motion-sensing remote allows pool owners to point and direct the cleaner for quick spot-cleaning.
What We Like About the 9550 Sport
Programmable Timer
The set-it-and-forget-it feature of the programmable timer is a winner. Instead of manually turning the machine on and off, pool owners now can set a weekly schedule and let the 9550 do its thing, without having to go outside and manually get it going.
Dirty Canister Indicator
This little light takes the guesswork out of knowing when it's time to clean out the filter. Once the canister is full, the light pops on and lets owners know it needs to be emptied.
Caddy Included
Many robotic pool cleaners on the market today charge extra for a matching caddy. Fortunately, the 9550 includes a caddy with purchase for easier transportation and handling.
What We Don't Like About the 9550 Sport
Flips When Climbing Walls
The description of this model says it climbs walls consistently to the waterline, but the 9550 delivers a sub-par performance in this area. When it falls from a climb, the 9550 tends to get stuck on its back at the bottom of the pool. It stays there until it eventually cancels the cleaning job, or someone dives in to flip it over. Unfortunately, it's easier to simply disable the wall-climbing feature.
Clouds the Water
The back propeller of the 9550 has a tendency to kick up debris, leaving behind a trail of cloudy water. This is incredibly frustrating, since that debris won't settle back to the bottom until well after the 9550 is done with its cleaning job. It creates an unfortunate cycle in which tiny debris continually gets dispersed and settled again to the floor.
Filter Canister
Unlike more modern robotic pool cleaners, the 9550 comes with one kind of media – a large filter canister. This canister does a great job of trapping larger debris, like leaves, acorns, and even smaller flower buds. However, it is lackluster with small particles like dirt and sand. Owners can pay extra for a finer filter, but the 9550's tendency to kick up these smaller particles might make it a futile effort.
Remote Control Is Spotty
The idea of the remote control is exciting, but the execution is poorly done. The remote control tends to turn off on its own, even in the midst of using it. When it does stay on, the 9550 lags in response to its commands, leaving operators frustrated and annoyed.
Which Model Is Worth Buying?
Neither.
Let us explain.
While the Vac-Sweep 360 is a popular model for the Polaris brand, we don't encourage any pool owner to buy a pressure side cleaner. This kind of cleaner is outdated and extraordinarily energy inefficient. Sure, the $450 price tag is far more appealing than $1,000. But do you know what kind of return you'll see on that investment? None. Considering the increased energy bills and time you'll spend maintaining both the cleaner and what it leaves behind in the pool, you may as well stick to scrubbing your pool manually.
The Polaris 9550 looks sharp. But that's about it. Its consistent wall-climbing ability exists in the product description only. The feature might as well be non-existent if pool owners have to resort to disabling the wall-climbing feature. And the 9550's tendency to stir up fine particles of debris instead of sucking them up is impressively bad design. For over $1,200, pool owners should expect a more refined and efficient machine.
You won't enjoy that hands-off, maintenance-free lifestyle you paid for with either of these models. You will work for the pool cleaner. Not the other way around.
The Real Winner?
First things first, do your research. Dependent on your price range and pool needs, there are a wealth of other options that have the bang-for-your-buck factor. Make sure to check out our Top 5 Robotic Pool Cleaners.
Steer clear of side suction cleaners and pressure side cleaners. They're outdated and headache-inducing. Instead, dive into higher quality robotic pool cleaner models. Brands like Aquabot and Dolphin have mastered the technology Polaris has tried and failed to replicate. Keep in mind that the robotic pool cleaners from these brands that actually deliver excellent performance will cost $1,000 or more. But, unlike the models above, they'll actually prove their worth in no time.
Want to learn how to take care of your pool?
Find top how-to's, guides, and more about taking care of your swimming pool.
Read More Pool Tips