Poolside
Advice, how-to's, tips & tricks, and everything pool related.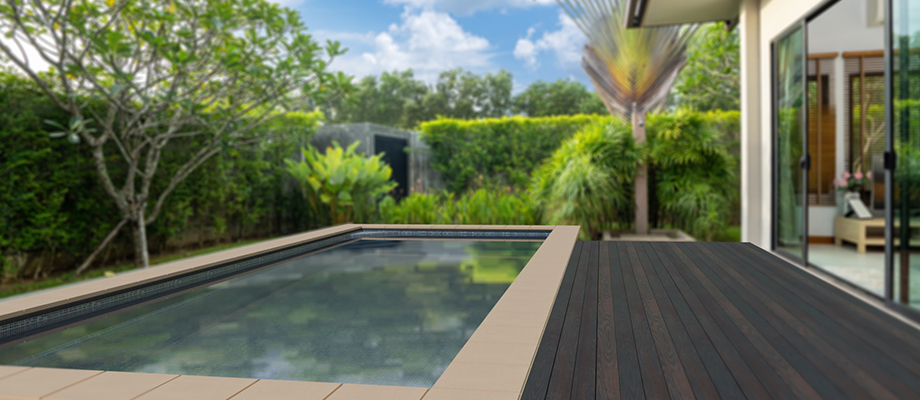 Best Robotic Pool Cleaners for Under $1,000 in 2023
On a budget and want the most bang for your buck, look no further as we break down the best pool robots under $1000 in 2023.
Tweet
---
Finding a robotic pool cleaner can be hard, especially if you're on a budget. A pool robot can make your life easier as a pool owner and even saves money compared to pressure side and suction side cleaners. Today, we're covering the best robotic pool cleaners and also what you want to avoid when looking for a pool robot.
What to Look For
You'll want to find a pool robot that matches your pool. Here are some key things to look for in a pool robot:
Scrubbing Brush
Tracks
Filter Basket or Cartridge
Smart Navigation
Other features that are a great addition, but not needed:
Waterline Cleaning - Different than wall climbing!
Programmable Timer
Warranty - Look for 2-3 years!
What to Avoid
Any unit without a scrubbing brush - These units simply don't scrub away stuck on algae and debris
Units without filter cartridges or a basket - Some units simply dump the debris into the body of the unit making it not only hard to clean, but also can reduce capacity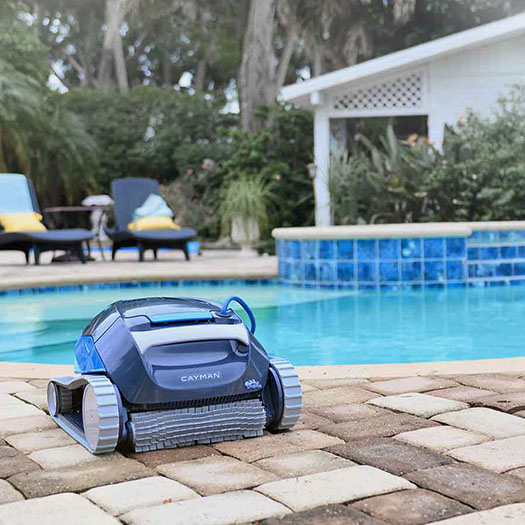 This is hands down the best robotic pool cleaner under $1000. The Cayman doesn't compromise performance. It is a great cleaner that get's it done for you, so you have more time to relax. With a programmable timer (also included in other robots), it is the entry level model option. It won't have all the bells and whistles, but it gets the job done - and done well.
Super Budget Friendly
Cleans your entire pool floor and walls
Powered by Maytronics SmartNav 2.0
Programmable Timer - Set the Cayman to automatically clean your pool every day, two days, or three days
Easy to clean filter basket
2 Year Warranty
Alternative: Open Box / Refurbished Pool Robots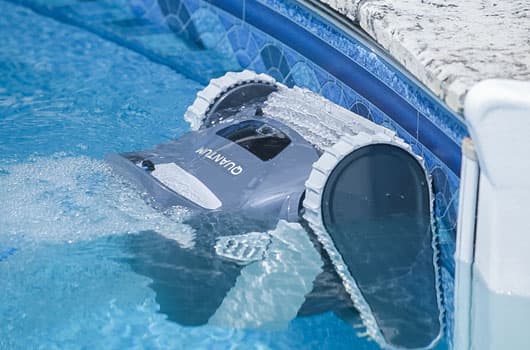 Before we go onto the next robot, an open box robotic pool cleaner can save you hundreds of dollars and may be a great option for your swimming pool. If you purchase from an Authorized Maytronics Dealer, they come with a full warranty, all original parts, and are fully tested. These are one of our favorite finds and are a great value. We've purchased multiple robots and never had any issues. We couldn't recommend an open box or refurbished cleaner enough.
You can find units such as for under $1,000:
Or if you want to go a little over budget, the Dolphin Premier or Dolphin Sigma can all be found for an insane value, but still over the $1000 budget.
The Quantum will have waterline cleaning, as well as the Premier and Sigma. If you have an in-ground pool cleaner, this is likely a feature you'll want. They all also come with 2 filter options (the Premier actually has 3), so you can filter smaller particles out of the water column that other units with only the standard filter will miss.
You can find the cleaners at Pool Robots or Poolbots. Both are Authorized Dolphin Dealers and all units come with a full warranty.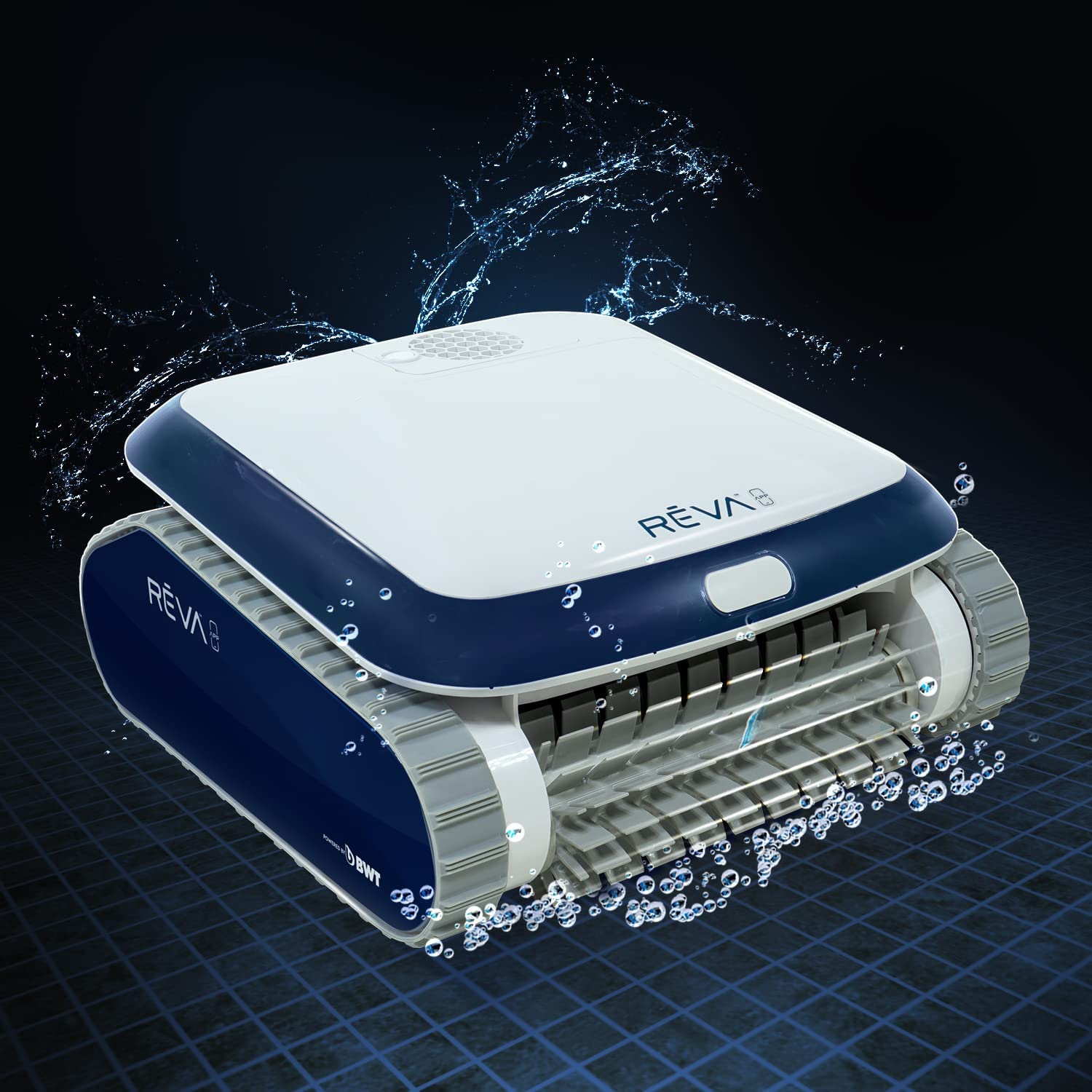 It's hard to find a robotic pool cleaner with more features than the Aquabot REVA. Improved for 2023, the REVA has waterline cleaning, dual filter baskets, and a smartphone app - all for around $800 or less! It's hard to find a comparable value when looking at Maytronics' Dolphin line. While we do love the reliability of Dolphin cleaners, Aquabot is a known brand trusted in the industry for years and the REVA doesn't disappoint.
Waterline Cleaning
Smartphone App
Utilizes AutoX Pool Mapping
Dual Filter Cartridges
2 Year Warranty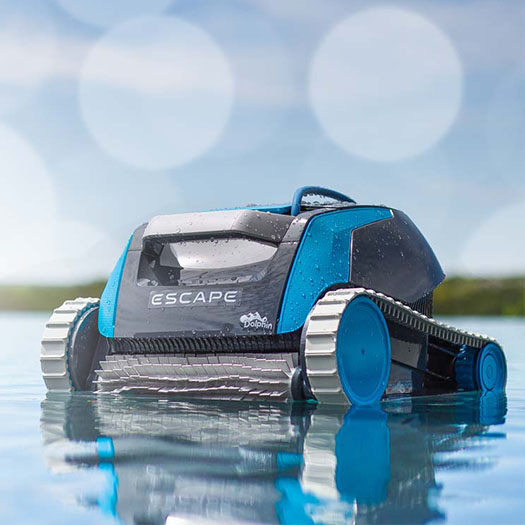 Rated the best above ground pool robot. But luckily, the Escape isn't just for above ground pools.While it is just limited to your pool's floors, its SmartNav 2.0 technology still allows the Escape to scrub, vaccum, and clean all sorts of leaves, algae, and other debris in your swimming pool.
Complete Floor Coverage
Easy to Clean Filter Basket
Automatically stops after each clean
Scrubbing brush actively scrubs away debris from your swimming pool
Uses Dolphin's SmartNav 2.0
While the Escape is an excellent cleaner, it won't have a Programmable Timer or Wall Coverage, so if you want those features, look at the Dolphin Cayman.
So what's the best pool robot for small pools?
Our pick is the Dolphin Cayman. Exceeding the rest of Maytronics' Dolphin line, the Cayman stands out as a value packed cleaner. With wall coverage, a programmable timer, and an easy to clean filter basket, it stands out as the Top Robotic Pool Cleaner Under $1000.
Easily the Dolphin Sigma or Dolphin Premier.
If you want to find the best of the best, make sure to check out our Top 5 Robotic Pool Cleaners for 2023!
Want to learn how to take care of your pool?
Find top how-to's, guides, and more about taking care of your swimming pool.
Read More Pool Tips