Poolside
Advice, how-to's, tips & tricks, and everything pool related.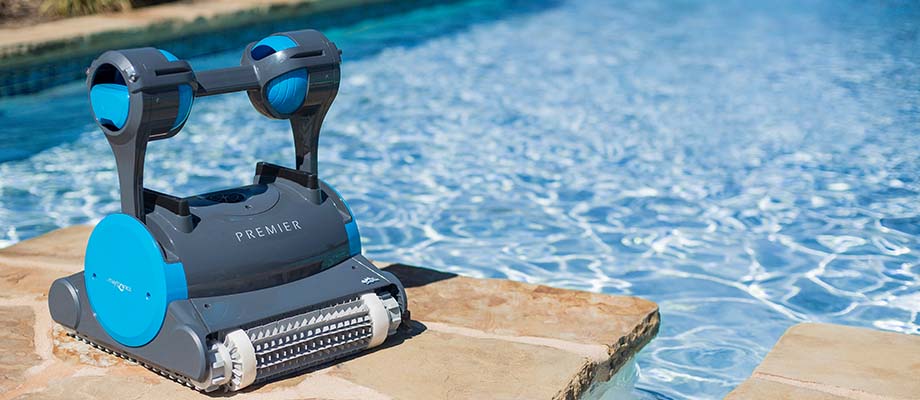 Top 5 Robotic Pool Cleaners for 2023
Breaking down the best robotic pool cleaners for 2023. See all the top pool robots and how well they performed in our reviews and testing.
Tweet
---
Robotic pool cleaners are a game changer if you're a pool owner. Whether you're a new pool owner or switching from a pressure or suction side cleaner, there are so many reasons to invest in a robotic pool cleaner for your pool. They help automate your pool cleaning, easy to setup (plug and play), save significant amounts of energy, and help keep your pool clear from algae, debris, and leaves.
There are so many brands to choose from from Dolphin, Polaris, Aquabot, Aiper, Pentair, and more. There are some key features you'll like want if you're an in-ground pool owner. We recommend looking out for these features:
Waterline Cleaning - Vital to keeping your entire pool clean
At least 2 filter options - Most cleaners only come with 1 filter option, which could leave behind leaves and twigs if you don't get a leaf bag or small particles if the robot doesn't include an ultra-fine filter
Warranty - A robotic pool cleaner is an investment, so make sure to find a cleaner with a great warranty
Programmable Timer - Allows you to schedule cleanings, so you don't have to manually start your cleaner every day
If you're not an in-ground pool owner, go ahead and go to our #5 pick, as we saved that one just for y'all.
So let's get started! Make sure to also check out our full length robotic pool cleaner reviews and comparisons.
1. Dolphin Sigma
Most Technologically Advanced Pool Cleaner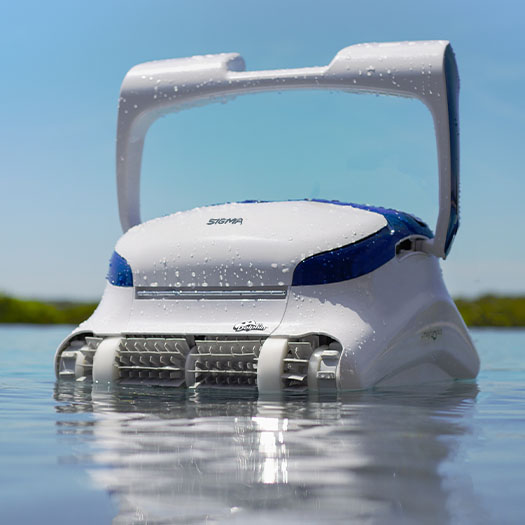 It's easy to see why the Dolphin Sigma comes at the top of the list. With a 3 year warranty, gyroscope, myDolphin Plus app, anti-tangle swivel, waterline cleaning, ultra-fine filter, and so much more, the Dolphin Sigma is the best robotic pool cleaner out there.
You simply cannot get much better than the Dolphin Sigma. It's cleaning ability stems from its triple DC motors which output over 4500 gallons per hour. That's over 75 gallons per minute it helps clean in your pool. Most cleaners only use two motors, but the Sigma uses 3 commercial-grade motors to power it over any obstacle - including the waterline of your pool.
Waterline coverage is super important for a robotic pool cleaner. Luckily, the Sigma is one of the best. It's dual stabilizer (which doubles as a handle for the robot) allows the Dolphin Sigma to adhere to your pool walls and move horizontal on the waterline, scrubbing away a ton of tough debris. Maytronics gave the Dolphin Sigma a gyroscope - which helps it stay oriented in your pool while it cleans your swimming pool. Add in Smart-Nav 3.0, which is Dolphin's latest pool navigation software, and the Dolphin Sigma ensures your whole pool stays crystal clear.
Just because it is powerful, doesn't mean it is inefficient though. Most robotic pool cleaners usually only use around 5 cents per hour in electricity, and the Dolphin Sigma is no exception. So when looking for a robotic pool cleaner, the Dolphin Sigma should be at the top of your list.
2. Dolphin Premier
The Best Robotic Pool Cleaner for Leaves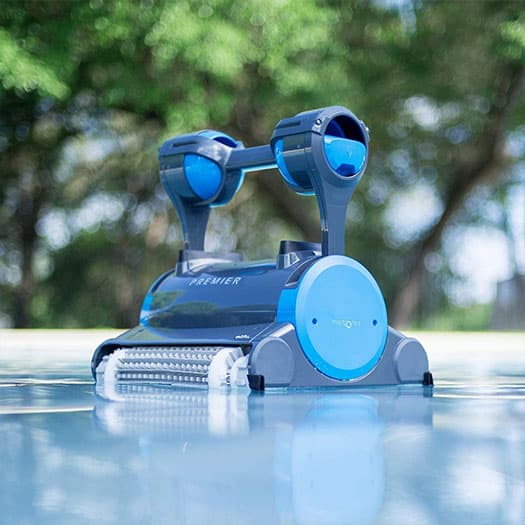 If you struggle with leaves, this is the cleaner for you. Hands down, the Premier is the best robotic pool cleaner for leaves. With Dolphin's MultiMedia, the Premier includes 3 filter options: oversized leaf bag, ultrafine filters, and standard cartridge filters (with an optional 4th, the disposable leaf bag). Most robotic pool cleaners only come with 1 filter, which can leave a ton of debris behind.
Just like the Dolphin Sigma, the Dolphin Premier is an amazing waterline cleaner thanks to its dual stabilizer and dual commerical-grade motors. The waterline performance was tied with the Dolphin Sigma for being two of the highest graded waterline cleaners we have ever tested. It did not disappoint.
The Dolphin Premier has SmartNav 2.0 - which helps scan and map your pool to ensure it always stays clean. We loved how the Premier covered the entire pool every cleaning cycle, which is something not all cleaners can do.
The interchangable filter options is what really sets the Dolphin Premier apart though. The standard filter is included, which is found in almost all Maytronics pool cleaners, but it really doesn't cut it. We found that using a combination between the ultra-fine filter and leaf bag is the best combination.
3. Dolphin Quantum
All the features you will need. And some more.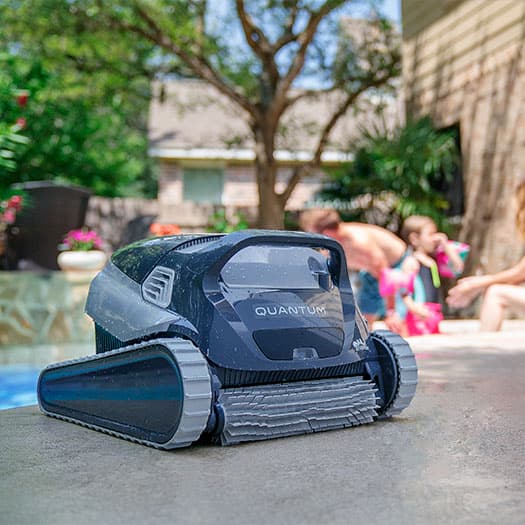 The Dolphin Quantum is a powerful and efficient robotic pool cleaner with impressive cleaning capabilities - especially for its price. Its lightweight design makes it easy to transport, while its dual 24-volt DC motors provide enough power for an effective clean without using up too much energy. It's equipped with SmartNav 2.0 software that calculates the most efficient cleaning pattern, as well as PowerJet 3D Mobility jets that let it climb walls and defy gravity underwater.
The oversized filter basket captures all kinds of debris from leaves and twigs to fine algae particles down to two microns in size, and maintenance is simple thanks to quick-change filters you can easily hose off until they're clean again. Plus, the Quantum comes backed by a two year warranty for added peace of mind - making this robot one of our top picks in the world of robotic pool cleaners!
4. Dolphin Cayman
Best Value Robotic Pool Cleaner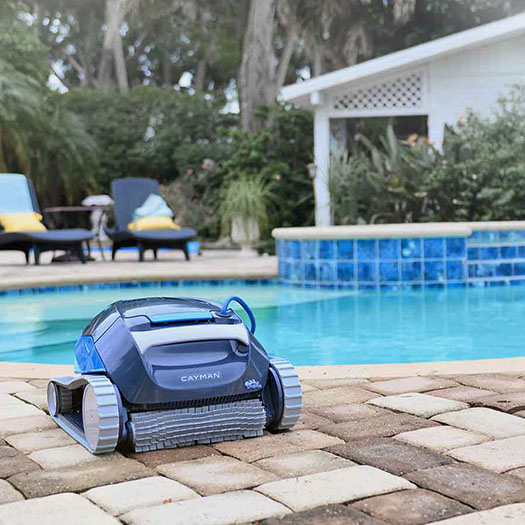 If you're looking to save some money, but still want the great performance of a Maytronics Dolphin robotic pool cleaner. This may be the cleaner for you.
The Dolphin Cayman is one of the best values out there. It has exceptional wall climbing, top-loading filter basket, SmartNav 2.0, HyperGrip Tracks, and a 2 year warranty to top it off. It can handle all sorts of leaves, algae, twigs, and more. It's a lot of bang for your buck - which everyone loves. While it won't have the fancy waterline cleaning, multiple filter options, and app connectivity, it does have a programmable timer so that the Dolphin Cayman can run every day, two days, or three days. It provides a great hands off clean, while still being affordable.
5. Dolphin Escape
Best Above Ground Robotic Pool Cleaner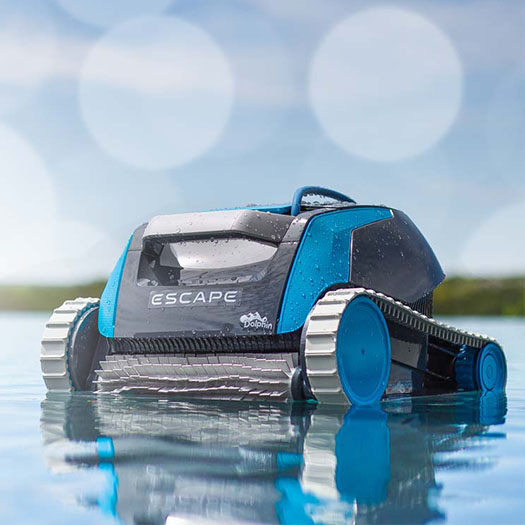 The Dolphin Escape robotic pool cleaner from Maytronics is a great solution for those with above ground pools who want to avoid the hassle and cost of manual cleaning. With its low price point, easy assembly, and lightweight design, this robot does an impressive job at keeping your pool clean without breaking the bank or being too cumbersome.
The HyperBrush feature allows it to scrub debris away quickly while SmartNav 2.0 ensures that no area of the pool is missed during each cycle. The bi-directional vacuum also helps pick up dirt in both directions so you can be sure everything will get removed from even hard-to-reach corners. Plus, its oversized filter cartridge holds 60% more debris than traditional ones which makes maintenance much easier because there's no need for tedious bags!
Not only is this robot powerful enough to take on tough jobs but it's also energy efficient thanks to DC motors instead of AC ones which reduces costs by 90%. And if you're still not convinced about investing in such a product then rest assured knowing that they come with a two year warranty plus 30 day return policy just in case you change your mind after purchase!
Overall, we think the Dolphin Escape robotic pool cleaner offers tremendous value when compared against other models available out there today - especially considering all its features like ease of use/maintenance as well as energy efficiency make it stand out among competitors on top of providing an excellent cleaning experience every time! So don't hesitate any longer - invest now and enjoy worry free swimming season ahead!
Conclusion
So that wraps up the best robotic pool cleaners for 2023! Whether you struggle with cloudy pool water, algae, leaves, or anything else, a pool robot can be a major help in your regular pool maintenance. Make sure to read all of our reviews where we review, test, and answer top questions on robotic pool cleaners!
Want to learn how to take care of your pool?
Find top how-to's, guides, and more about taking care of your swimming pool.
Read More Pool Tips