Poolside
Advice, how-to's, tips & tricks, and everything pool related.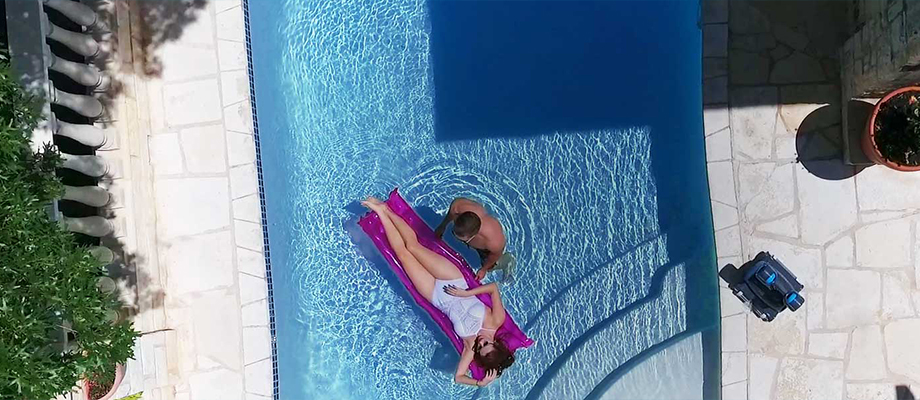 How well does a robotic pool cleaners Work?
Take your pool maintenance to the next level
Tweet
---
Are you a pool owner who's ready to take their pool-cleaning relationship to the next level? We're here to help you navigate the tricky waters of choosing a robotic pool cleaner that'll bring the sparkle back to your pool adventures. Go ahead and stop clutching that 10-year-old pressure side cleaner that barely works anymore – there's an upgrade on the horizon.
Robotic pool cleaners are usually a wise investment. But like any appliance, it depends on which one you choose. And if you're already on the fence about purchasing a robotic pool cleaner, you probably want to know just how well they work. We've broken down how robotic pool cleaners perform by their key functionalities that entice most consumers to buy them in the first place.
First things first, these functions don't apply to all robotic pool cleaners. Like any machine, there are those worth their cost, and there are those that will be nothing but a perpetual headache. Here, we're talking about premium models of robotic cleaners from respectable brands, like Dolphin or Aquabot. These models tend to be pricier (around $1,000 or more) than budget models, but they also leave the alternatives in the dust.
Filtration
Multi-media filtration is one of the features that really puts robotic pool cleaners in a league of their own. Having suction power is well and good, but a robotic cleaner has to be able to filter out and capture all debris to be truly effective. Old-fashioned cleaners use one filter media, which is not enough to capture the variety of debris most pools receive.
Models like the Dolphin Quantum, for example, accommodate four different filter media. When a pool is cloudy with sand and dirt, use the ultra-fine filter to sift out the tiny particles. When a storm rolls through and leaves the water littered with leaves, whip out the oversized leaf bag to scoop them all up. Having multiple media options on an already excellent filtration system means pool owners no longer have to compromise. Instead, they can give their pool the exact kind of cleaning it needs when it needs it.
Suction Power
"Pool vacuum" is a bit of an outdated term, considering modern robotic pool cleaners go above and beyond mere vacuuming. However, these models do pack a punch when it comes to suction power. Most are powered by multiple energy-efficient DC motors that are on average 20% bigger than motors on old-fashioned cleaners. The Dolphin Sigma, for example, has an impressive triple-motor design. With this bigger size comes bigger power. These motors power a higher flow rate, meaning the robot can suction more water through the intake to be filtered free of debris.
Scrubbing
This is where the all-encompassing "cleaner" title comes in with robotic pool cleaners. The majority of a pool's debris isn't floating in the water or suspended just above the floor. It's on the pool surfaces. And it's often stuck-on. Models like the Dolphin Sigma have active scrubbing brushes that attack built-on grime and loosen it before sweeping it into the cleaner's intake. Automatic pool cleaners like suction side cleaners and pressure side cleaners can't do this, leaving pool owners to manually scrub down the sides of the pool before the debris build-up gets out of hand.
You can compare this functionality to scrubbing a dirty floor with a durable brush and some elbow grease as opposed to floating over it with a vacuum. It offers a much more effective deep clean.
Waterline Scrubbing
The waterline is every pool owner's nemesis. That's where dirt, grime, slime, and all other sorts of nastiness accumulate. If you don't clean it regularly, bacteria and algae will flourish and quickly spread. That's where waterline scrubbing (one of our favorite perks of using a robotic pool cleaner) comes in. When a cleaner does its job, it can climb all the way to the waterline on every cleaning pass, actively scrubbing the surface free of dirt and scum with the durable rotating brushes that sweep debris into the cleaner's filtration system.
Climbing
Robotic pool cleaners are designed to climb walls, all the way to the waterline, while actively scrubbing and vacuuming surfaces. More impressively, though, they can also navigate trickier obstacles like stairs, shallow ledges, and underwater coves. These machines are built like a small tank, low to the ground with durable tracks that cling to surfaces. These features enable robotic cleaners to climb up and over the tough underwater obstacles what would stump lesser cleaners. Internal jets and the powerful on-board motors also contribute to robotic pool cleaners' remarkable gravity-defying movement.
Coverage
Traditional pool cleaners are unintelligent. Suction side cleaners and pressure side cleaners are prime examples. They wander aimlessly, driven only by the suction power or pressurized water coming from the pool pump. Premium robotic pool cleaners, however, are remarkably smart.
Today's high-end robotic pool cleaners have microprocessors on board that help the machine create an efficient cleaning route. Some models can even "learn" your pool. Between scanning software, gyroscopic mobility, and even manual remote controls, robotic pool cleaners can effectively clean every square inch of a pool's surface. This intelligence also lends itself to cheaper electric bills, too. With a more straightforward cleaning route, these robots won't waste energy by spending hours randomly traversing a pool.
Hands-Off Maintenance
After all that hard work you didn't have to do, premium robotic pool cleaners ask for only a little TLC in return. Most are surprisingly low maintenance. Once a cleaning job is done, pool owners need to only empty and rinse the filter, reinsert it, and then store the cleaner. Beyond that, robotic pool cleaners don't require much at all.
The Game-Changer in Pool Cleaning
Robotic pool cleaners are like an on-demand pool guy you can plug in and leave at the bottom of your pool until it's sparkling clean. These handy robots take virtually all of the hard work out of pool ownership. They can certainly be a worthwhile investment if you value being able to spend more time enjoying your pool than maintaining it.
To learn more robotic pool cleaners and find which one is right for you, visit our review page where we have tested nearly all robotic pool cleaners from Dolphin, Aquabot, Polaris, Aiper, Pentair, and more. You can watch videos of the products in action, read reviews from real customers, and more. And once you've chosen the right robotic pool cleaner for your pool, you'll never look back. It'll work harder than any other cleaner – human or automatic.
Want to learn how to take care of your pool?
Find top how-to's, guides, and more about taking care of your swimming pool.
Read More Pool Tips