Poolside
Advice, how-to's, tips & tricks, and everything pool related.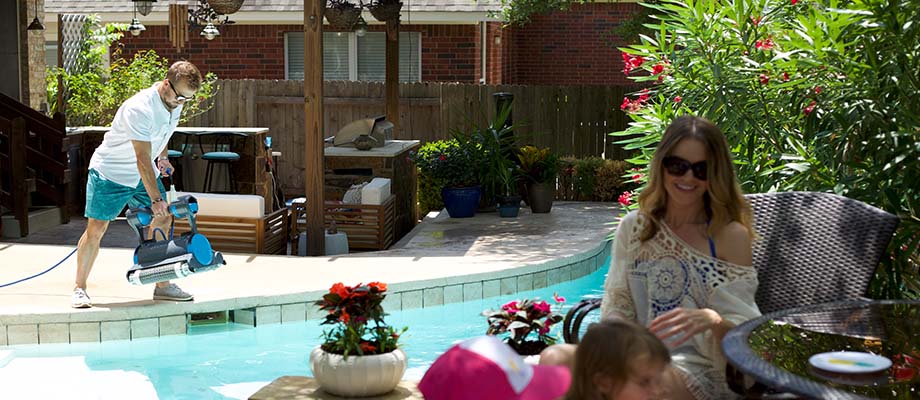 Swimming Pool 101
Guide to Your Perfect Pool
Tweet
---
You've wanted a swimming pool for years. Ever since you were a little kid, you dreamed of the perfect poolscape in your grownup backyard, where you and your family could splash the hot days away, get the perfect tan, barbecue with neighbors, and make a million memories. But now that you're actually a grownup with a mortgage and a small backyard, you're not so sure how to make that swimming pool happen, right? Well, you're not alone. With the most common size for a swimming pool measuring around 15' x 30', making that pool a reality is easier said than done.
As backyards get smaller and smaller for the average American household, potential pool owners are struggling to realize their dreams of having a pool on their property. Tiny lots in the hearts of metropolitan areas and even newer suburban neighborhoods don't leave much room for a sprawling, backyard oasis. But that small lot doesn't have to be a deal breaker. Depending on what you're working with, there's probably a size and shape of pool that would complement your property perfectly.
Popular Pool Shapes & Sizes
Free-Form Pools
The free-form pool is your proverbial oyster. Typically built using the gunite or shotcrete method, these cement structures can take on any shape or size. Owners design custom poolscapes that can be sprawling, deep swimming holes, or even small "spools" (a spa/pool hybrid – more on that later).
This kind of customizability comes with a price. Gunite is the most expensive pool construction method, but it has its major perks. Instead of being confined to specific designs and sizes like with fiberglass, vinyl, and above ground pools, gunite pools can be designed to fit your needs. In the case of a small backyard, that's a huge bonus. Customize a gunite pool to contour to your yard's shape and features so it works with the space, not against it. Plenty of homeowners with small lots have built larger pools than they expected were possible because the design worked with the shape and layout of the existing yard.
The term "free-form" can also apply to pre-designed, natural-looking pool shapes. So, you can still get the meandering curves of a free-form pool in a fiberglass shell or vinyl-lined pool, but you'll miss out on the complete customizability of gunite.
Average Sizes
Small: 10' x 10'
Medium: 15' x 30'
Large: 25' x 40'
Rectangular Pools
Rectangular pools are a classic choice. Fortunately, it's a shape that can be built in gunite, vinyl, fiberglass, and even some above ground pools, so there's a rectangular pool for any budget.
No matter how large they are, rectangular pools are typically sized so the width is half the length. Depending on the shape of your backyard, the long, even shape of a rectangular pool might make more sense than a free-formed one. Plus, these pools are an extremely popular choice for families or grandparents who like to entertain the grandkids.
Lap pools are becoming more and more popular as a means of exercise. Typical family pools aren't quite long enough to accommodate swimming laps. But with a rectangular pool, you're a lot closer if you stretch it out a bit. If you have 35' – 45' of space, you may be able to make a modern, sleek lap pool. These aren't as practical for small children or large hangouts, but they're ideal for looks and functionality if your main purpose in buying a pool is exercise. Just remember, keep your lap pool at least 4' deep and 6' wide.
Average Sizes
Small: 12' x 24'
Medium: 18' x 26'
Large: 30' x 50'
L-Shaped Pools
The unique shape of L-shaped pools appeals to many modern pool owners. It can be a true L-shape with a definite 90° angle, or a "lazy" L with a more obtuse angle. The long side is usually deeper and designed for play and partying. The short side of the L is typically shallow, perhaps with steps, a beach entrance, or a tanning ledge. L-shaped pools are available in vinyl, fiberglass molds, or completely customizable with gunite.
Dependent on your property, an L-shaped pool can fit like a glove near the perimeter of your home without taking up too much space or creating dead space in your yard. This modern take on a pool shape is growing in popularity and works well in both large and small sizes.
Average Sizes
Small: 16' x 24' x 48'
Medium: 18' x 26' x 41'
Large: 20' x 30' x 44'
Kidney-Shaped Pools
The classic curve of a kidney-shaped pool is probably the most recognizable pool shape in residential areas. It mimics a natural body of water without being overly complicated. And because the shape works in fiberglass, vinyl, and gunite, it's a popular pool shape for all budgets. The curves allow for more interesting landscaping and have a more nestled feel than pools with defined angles. Kidney-shaped pools can easily be small, or they can sprawl over 30' in length. If your yard is big enough to entertain the idea of a pool, the classic kidney shape can probably fit in it.
Average Sizes
Small: 10' x 20'
Medium: 14' x 22'
Large: 19' x 36'
Round or Oval-Shaped Pools
Round and oval-shaped pools aren't as common for in-ground pools. However, they do bring a unique and classy flair to any space.
Larger round pools require larger backyards, especially considering the decking that will need to surround the pool. Luxury round in-ground pools can reach over 30' in diameter. But for people who don't have that kind of space to work with, there's the popular "spool."
A "spool," or spa-pool hybrid, is a small round pool that is only 10'+ wide. This is ideal for relaxing or lounging around on hot days, and it's small enough to heat like a hot tub during the colder months without making your electric bill skyrocket. Many new pool owners are opting for "spools" with jets to both recreate the hot tub effect and provide a current to swim against for exercise.
Another round pool option that's growing in popularity is a cocktail pool. These are around 10' in diameter and 4' deep. Their primary purpose is in its name – lounging around, drinking a cool drink, enjoying the brisk water, and not much more.
Average Sizes
Small: 8'
Medium: 15'
Large: 30'
Above Ground Pools
Classic above ground pools are perfect for small backyards and small budgets. They're far less of a commitment, both financially and time-wise. They can be put together in a weekend, and they can be torn down and removed just as quickly.
Above ground pools sometimes get a bad reputation. Their lack of durability and finishing touches can make them look shabby, unless you take steps to enhance their surroundings. Add a wrap-around deck, gravel pathway, flagstone, and lush landscaping to make it an outdoor oasis.
Of course, you're limited on shapes and sizes when it comes to above ground pools. They're usually round or oval and have a maximum height of 48" – 52". Although above ground pools aren't remarkably customizable, they do come in an array of sizes to fit nearly any backyard. For many potential pool owners, trying an above ground pool in their backyard for a year or two is an excellent trial run before committing to the cost and construction of an in-ground swimming pool.
Average Sizes
Small: 12'
Medium: 18'
Large: 30'
Bigger Isn't Always Better
Even if you're working with a tight backyard, your choices for a pool may not be as limited as you think. More and more owners are trending toward smaller pools with unique shapes that better fit their space. Smaller sizes don't inhibit the fun of a pool, and they're less expensive and require far less maintenance than larger ones.
It's always a good idea to consult with a pool professional for advice on which shape and size pool will work best. If you've got the budget and space to go all-out with a large outdoor oasis, go for it. But you don't have to sacrifice real estate that could be used for other things just to have an oversized pool.
Want to learn how to take care of your pool?
Find top how-to's, guides, and more about taking care of your swimming pool.
Read More Pool Tips